Beatles Tribute Band – The Liverpool 4 – Returns to The Barge in Gravenhurst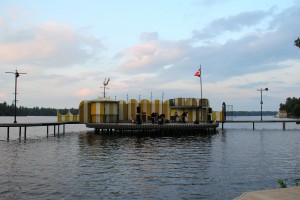 We are really excited to be back in Gravenhurst, performing on the barge on Sunday July 23rd. Its such an honour to be on this historic stage, playing to thousands of happy cottagers and local Beatle fans.
Did you know that The "Barge" was designed by Stanley White Jr., and was financed through the combined efforts of the Lions Club, the Rotary Club, the Board of Trade, the municipality of the Town of Gravenhurst and generous donations from citizens. At a cost of approximately $14,000, the Barge was completed by July 4th, 1959.
The first official performance on the permanent and present "Barge" structure was held on that day for the official visit of Her Majesty Queen Elizabeth and Prince Philip.
If you haven't seen this before, come and see Beatlemania both in performance and venue!
The Liverpool 4 – Canada's favorite Beatles Tribute Band