The Liverpool 4 Beatles Tribute Play Maple Leaf Gardens
Maple Leaf Gardens 2016!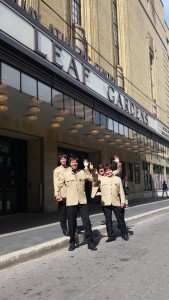 The Liverpool 4 is thrilled to be playing in Maple Leaf Gardens on August 17th, 2016 – EXACTLY 50 years to the day of the last live performance of The Beatles in Canada at MLG!
The setlist from 1966 was:
Rock and Roll Music
She's a Woman
If I Needed Someone
Day Tripper
Baby's in Black
I Feel Fine
Yesterday
I Wanna Be Your Man
Nowhere Man
Paperback Writer
Long Tall Sally
We will be playing all these Beatles tunes and many other Beatles #1 hits!